What have you been doing in 2018?
*Sophia has been extremely busy, so to find out everything she has done, please click here. We will try to summarise the activities she's been involved with below!*
Throughout 2018, Sophia has been campaigning to ban the single-use and heavy duty plastic bag in the whole of NSW, following the news that it was the only state that hadn't banned single-use bags. It was acknowledged that if she managed to gain 10,000 signatures in her petition, then it would be debated in NSW Parliament.
Throughout the campaign, Sophia has visited many different events in order to reach her goal of 10,000 signatures. She has been to events such as the Northside Produce Markets, screenings of 'The Plastic Ocean', the opening of the Coal Loader in Waverton and many more.
Along her campaign journey, Sophia received support from several figures and organisations including Boomerang Alliance, Luke Foley (Politician), Surfrider Foundation and others.
In June 2018 she was nominated for the Australian Geographic Young Conservationist of the Year.
Sophia attended several workshops and events in July which focused on sustainability and reducing the use of plastic.
In August, Sophia managed to collect the 10,000 signatures she desired, and the petition was put to parliament.
In October, Sophia was awarded the Australian Geographic Young Conservationist of the Year.
At her school, Monte Sant' Angelo, North Sydney campus, Sophia carried out a Waste Management Audit with 113 bags of waste being collected. She also took part in a North Sydney Sustainability Youth Congress.
What has been your motivation?
The original impetus was a school project where I was able to choose a topic that I was passionate about. Laudato Si' (Pope Francis' encyclical on Care for Our Common Home) and also personal research made me realise that plastic was a huge problem and I wanted to be part of the solution. The motivation has also been supported by so many people and environmental groups such as Surfrider Foundation Australia.
Why is the environment imporant to you?
Because we have only one earth and we must care for it - this is highlighted by Laudato Si'.
Community gathering at Bradfield Park featuring our very own Terrie-Ann Johnson!
Any plans for the future?
I completed a Waste Management Audit at my school, Monte Sant Angelo North Sydney in November 2018. Results are to be reviewed by Monte Executive in the New Year with recommendations such as recycling bins. My hope is that this exercise and outcomes can be shared with other schools so that students can be encouraged to undertake similar process at their schools.
*UPDATE*
In January Sophia was awarded both North Sydney and Willoughby City Council Young Citizen of the Year award. She has also spoke at the Australian Geographic Awards Roadshow and the 2019 Stead Memorial Environmental Lecture in February.
How do you feel about being a Youth Ambassador for Clean Up Australia?
Honoured and excited to be able to carry on Ian Kiernan's legacy and to be the voice of the next generation for Clean Up Australia.
Why do you think Youth Ambassadors are important?
To give youth a voice for issues which will affect us in the future.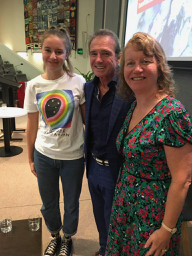 Sophia with Pat Farmer and her mum, Linda, at the AG Roadshow.
Click on the button below to find out more about our other Youth Ambassadors for 2019!