How lucky are we to be able to walk, cycle, play and picnic by Parramatta River! But it's only nice to enjoy when its clean and healthy.... which all starts with each of us helping keep it litter free!
Sadly there's a LOT of rubbish along the foreshore at George Kendall Riverside Park. It would actually have to be THE MOST LITTER POLLUTED spot (that's easily accessible) along Parramatta River we've found.... and trust us, we've gone looking!
So we're holding regular litter clean ups to make a significant dent on the amount of rubbish that has built up along the foreshore in Ermington and continues to collect there. And in just the last 6 months, we've removed a massive 150 bags/ over 600kgs of rubbish!!
Our clean up site is over 400m long and we have 6 clean up spots marked out, with a Litter Leader at each, to keep us covid safe. This is a family friendly event and it's best suited to kids 4yrs+. All equipment is supplied, you just need to wear gumboots or enclosed, sturdy shoes.
We'd LOVE to have your help - many hands make light work! We have a great, growing group of local families who regularly join us. At our October clean up, there was over 60 adults and kids!!
You'll find our welcome table near the end of Broadoaks Street, just at the start of the disused path along the foreshore in George Kendall Riverside Park. There's a nearby carpark, Cafe W is a short walk away and so are toilets and playgrounds.
We're taking a little break over the summer (due to mozzies and holidays) and our next clean up is on:
- 7th March 2021 from 10am to 12pm
- 5th June 2021 from 10am to 12pm
- 16th October 2021 from 2pm to 4pm
Date and time
Saturday 16th October 14:00 - 16:00
Occurs: Quarterly
Location
George Kendall Riverside Park
Council: Parramatta Council, City of (NSW)
Site Type: River/Creek
Event Info
Meeting Point: Near disused path along the foreshore at George Kendall Riverside Park, close to the Broadoaks Street entrance and opposite the baseball fields.
Site Supervisor: Kellie Darley
My Updates
Almost 100 Bags Removed!
Thursday 20th Aug
In just 3 months, we've removed 96 Clean Up Australia Day bags of rubbish (+ plus a number of large items) from along the Ermington Foreshore. We estimate that's close to 500kg of rubbish no longer polluting the river.
Come join us on the 1st Saturday of the month (time changes due to tide). The clean up site is a few hundred metres long and we set up 6 clean up spots to assist with social distancing.
Share
Meet Diver Dave and his Sea Creatures
Wednesday 14th Oct
We're excited to share that Diver Dave is coming to our community litter clean up on Saturday 17th October and bringing some cute and interesting sea creatures for us to meet! https://diverdavesoceanadventures.com.au/
Plus, you've got the chance of winning 1 of 3 $100 gift cards just by removing at least half a bag of rubbish at the clean up, thanks to Above All Bathrooms.... definitely plenty of extra reasons to join us this Saturday afternoon! And please invite your friends along... many hands make light work.
Share
Over 600kgs of rubbish removed in 2020
Sunday 3rd Jan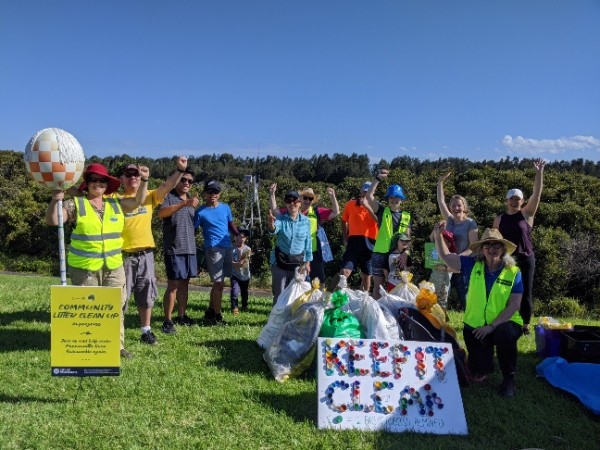 After accidentally coming across the old path along the foreshore at George Kendall Riverside Park in May 2020 and being shocked and absolutely disgusted by all the rubbish amongst the mangroves, we set to work on cleaning it up..... and in just 6 months (even with covid restrictions) we managed to remove a massive 150 Clean Up Australia Bags of rubbish!!! 
We've taken a little break from removing rubbish from this spot over the summer, given the mozzies and holidays. And look forward to returning for Clean Up Australia Day in March. It'll be interesting to see how much rubbish has washed up during this time and we also hope to put the new Parramatta River Catchment Group litter vacuum to work on removing the massive amount of small bits of rubbish.  
We hope you will join us in 2021 as we work towards a litter free Parramatta River! 
Our events are family friendly and covid safe.
Share